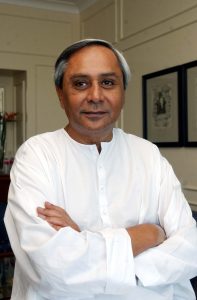 By Bizodisha Bureau, Bhubaneswar, July 22, 2023: Naveen Patnaik on Sunday will become the second longest serving chief minister in the country. The title of the longest-serving CM, however, belongs to Pawan Kumar Chamling, the former CM of Sikkim, who held the position for an impressive 24 years and 166 days.
Naveen on Saturday equaled the record set by former West Bengal CM Jyoti Basu as the second longest-serving Chief Minister in India. Naveen has held the position for an impressive 23 years and 138 days, sharing this rank with the late veteran CPI (M) leader. Interestingly, Naveen was relatively unknown in political circles until he reached the age of 51.
After the death of his legendary father and former chief minister Biju Patnaik on April 17, 1997, was called upon to lead the Biju Janata Dal, newly formed after his father's name. His journey began with his successful election from the Aska Lok Sabha constituency in his home district of Ganjam. In 1998, he became the Steel and Mines Minister in the Atal Behari Vajpayee government at the centre.
However, he contested the assembly elections in 2000 and ever since he has never looked back. Naveen successfully led a coalition government with the Bharatiya Janata Party in 2000. He was sworn in as the 14th CM of Odisha on March 5, 2000. The National Democratic Alliance, in which BJD was a partner, came to power in 2004. Though the NDA lost the general election in the 2004, it did not adversely affect Naveen's electoral prospects in Odisha.
In 2009, one of the major challenges for Naveen arose when he had to end his alliance with the BJP due to communal violence in Kandhamal. Despite facing such challenges, Naveen Patnaik remains incredibly popular in the state of Odisha. In subsequent Assembly elections, he has effortlessly won over 100 out of 147 seats consecutively, seemingly unaffected by the anti-incumbency factor. His soft-spoken nature and reputation as an anti-corruption crusader have contributed to his electoral success. Under his leadership, the BJD (Biju Janata Dal) has not suffered any electoral defeats, whether in Lok Sabha, Assembly, or panchayat elections.
Naveen Patnaik is a shrewd politician who has maintained cordial relationships with leaders at the national level. However, he has chosen to keep his regional party, BJD, equidistant from both the Congress and BJP. While other non-BJP parties were forming alliances to challenge Prime Minister Narendra Modi, Mr. Patnaik remained non-committal about joining any front.