By Nageshwar Patnaik in Bhubaneswar, November 3, 2020: For centuries, disasters have ravaged humanity changing the course of history more often than not. Millions of people have died in the past due to these disasters. When coronavirus COVID-19 originated in Wuhan in China no one thought that COVID-19 disaster would shake the world like it has now.
Fighting battle with COVID pandemic turns out to be as big as World War II. Most people think or at least hope that their government is doing a good job in the face of COVID-19 pandemic. But there can be no doubt that governments around the world were ill-prepared for this pandemic.
Country after country had been locking their citizens in their homes to slow the spread of the virus for fear that their health systems get overwhelmed. This clearly exposed the alarming lack of preparedness even in some of the world's wealthiest countries to react to the COVID-19 pandemic.
The COVID-19 has affected 216 countries around the world. More than 4.65 crore people have been infected with this deadly virus and over 12 lakh people have succumbed to it. World's richest country, USA is leading with 93.18 lakh cases and more than 2.3 lakh deaths as on Sunday. India with more than 82 lakh cases and 1.23 lakh deaths is second in the list.
As COVID-19 spread accelerates, the WHO Emergency Committee on Friday said that the COVID-19 pandemic still remains a public health emergency of international concern. Russia and the United Kingdom are already witnessing the second wave of COVID-19, because of the winter.
Dr. Christopher Murray of the Institute for Health Metrics and Evaluation at the University of Washington at a press conference on Friday painted a very dire picture of what the future holds, saying we could "essentially (see) twice as many deaths to come in the rest of the year as we have seen so far."
In our country, the number of new coronavirus cases and deaths have declined last month as the spread of the pandemic has stabilised in most of the states. Uttar Pradesh based Dr B K Gupta claims that the worst is over and Indians have the required immunity to fight the deadly virus and there is no need for any lockdown even if there is a little spike in the positive cases in this witner.
However, Niti Aayog Member and the chief of an expert panel coordinating efforts to tackle the pandemic in the country, V K Paul has warned of a second wave of infections in the winter season. Moreover, as per the Indian Meteorological Department (IMD) reports, a colder than usual winter season could be on the cards this year, along with frequent and intense episodes of cold waves in the country.
The pandemic induced lockdowns already has wrecked the economy like never before virtually plunging it into the biggest economic crisis. The World Bank and the Reserve Bank of India (RBI) have projected the economy to contract by 9.6% and 9.5% respectively in fiscal year 2020-21. If our country passes through the second phase of spike in COVID-19 cases, will the Narendra Modi government announce Lockdown 6?
There is no clear evidence if Lockdown and social distancing can help in containing COVID-19. Nevertheless, proactive announcement of toughest lockdown in March across the country is seen as buying time to create a massive testing infrastructure, so that even asymptomatic people could be tested and quarantined.
Indians are fast losing all confidence in the country's economy. For the third consecutive month, consumers were more pessimistic than before about India's economic prospects, according to the Reserve Bank of India's (RBI) Consumer Confidence survey. The consumer confidence index was at a record low of 49.9% in September compared to 53.8% in July.
The spread of Covid-19 has dented the already weak employment environment. Mumbai-based Centre for Monitoring Indian Economy (CMIE) states that India's unemployment rate has fallen from a high of 23.5% in April this year to 6.9% as of October. The supply-side disruption caused by lockdowns has led to a spike in prices of non-food items like personal care, medical care, and transportation.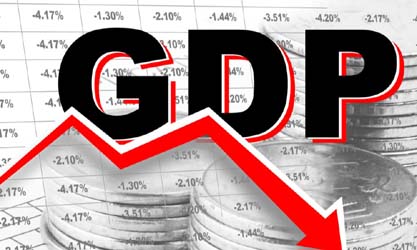 It may take years for India's Gross Domestic Product to regain the output it lost due to the coronavirus pandemic, India's exports staged a turnaround and grew in September though the pace of growth was marginal at 5.27%. However, imports declined by close to 20%. But there has been a sharp spike in the Nikkei Manufacturing Purchasing Managers' Index, which jumped to 56.8 in September from 52.0 in August indicating some growth. Also in August, the output of India's eight core sectors of infrastructure declined by almost 9%.
Besides economic fallout, the pandemic has led to a major social and humanitarian disaster with hapless people going through health crisis, unemployment, fear, anxiety and social stigma. It inflicted terrible suffering on informal labour. Migrants became visible because they started walking, violated the lockdown and upset the system.
Modi in a recent interview has said that agriculture, labour and other reforms being carried out will help boost India's growth prospects, and that the pandemic-ravaged economy was getting back on track faster than expected.
At this juncture, if the government once again opts for lockdown in a month or two, the little progress in the revival of economy will be derailed.
Emerging evidence of successful protection of life in places as diverse as New Zealand, South Korea, Hong Kong, Vietnam, and our state of Kerala, speaks to the enduring importance of "command and control" state capacity in delivering fundamental public goods, especially in times of crisis.
The Modi government must take cue from these success stories and refrain from clamping lockdown once again for the survival of badly shattered economy.