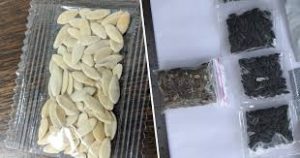 By Bizodisha Bureau, Bhubaneswar, August 9, 2020: The Odisha State Seeds Corporation (OSSC) has cautioned farmers on use suspicious seed parcels of Chinese origin following the Centre's directive to the state governments, seed industry and research bodies on the suspicious/unsolicited seed parcels.
"It has come to the notice of Department of Agriculture, Cooperation & Farmers Welfare that threat of unsolicited/suspicious seed parcels with mislabelled packages from unknown sources was reported in many countries like US, Canada, UK, New Zealand, Japan and some European nations," the Ministry of Agriculture and farmer welfare said in a statement.
"The unsolicited seed parcels can be threat to bio-diversity of our country; therefore all States Department of Agriculture, State Agriculture Universities, Seed Associations, State Seed Certification Agencies, Seed Corporations, ICAR vis-a-vis their crop-based research Institutes are directed to be vigilant about the suspicious seed parcels," the ministry added.
Chairman of Odisha State Seeds Corporation, Iswar Chandra Panigrahi informed, "We have advised farmers not to use seeds which are not examined by any certification agency of the government. They have been asked to immediately inform the nearest agriculture department officer and district administration if any dealer or organisation supplies such seeds."
Meanwhile, Odisha University of Agriculture Technology (OUAT) has issued an alert in this regard.
The unsolicited/suspicious seed parcels with mislabelled packages from unknown sources may pose a serious threat to the biodiversity, the US Department of Agriculture (USDA) had earlier said.
The USDA has reported that the unsolicited seed parcels may contain seeds of invasive species or an attempt to introduce pathogens or disease that may pose food serious threat to the environment, agriculture ecosystem and national security.