By Bizodisha Bureau, Bhubaneswar, June 22, 2020: There is good news for millions of devotees of Lord Jagannath with the Supreme Court on Monday allowing the colourful annual Car Festival (Rath Yatra) to be held at Puri only on Tuesday.
As per the SC order, the temple committee will organise the yatra in coordination with state and central governments, without compromising the safety and health of the participants. No public participation will be allowed in the yatra.
Four days back the Apex Court had stayed the historic Lord Jagannath Rath Yatra at Puri due to Covid-19 pandemic. While hearing a public interest litigation (PIL) filed by NGO 'Odisha Vikash Parishad' the top Court on June 18 had said that in the interest of public health and safety of citizens, this year's Puri Rath Yatra cannot be allowed and that "Lord Jagannath won't forgive us if we allow" it.
A day after the order was passed, several applications were filed in the top court seeking recall and modification of its order. But on Centre and Odisha government's appeal, Chief Justice SA Bobde had agreed to set up a three-judge bench which heard the matter on Monday.
Besides CJ Bobde, the bench comprised of Justices Dinesh Maheswari and A S Bopanna.
Odisha government informed the bench was informed it will coordinate with the temple management and the Centre to make things smooth during Rath Yatra.
"It is a matter of faith for crores. If Lord Jagannath will not come out tomorrow, he cannot come out for 12 years as per traditions," Solicitor General Tushar Mehta said adding that the procession can be confined without hurting the religious sentiments of the people and the Centre can consult with Puri's Shankaracharya.
Mehta said that besides maintaining precautions, the state government can impose a curfew for a day.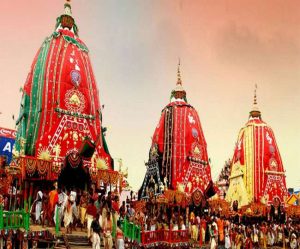 The bench said the court is not going to micro-manage the Rath Yatra and it will leave it to the wisdom of the Centre, the state and the temple trust for conducting the rituals.
While the Rath Yatra festival, held over 10-12 days with lakhs of people participating, was scheduled for June 23, the 'Bahuda Jatra' (return car festival) was fixed for July 1.
Three heavily-built wooden chariots of Lord Jagannath, Lord Balabhadra and Devi Subhadra are traditionally pulled by thousands of devotees over a distance of three kilometres twice during the nine-day festival of the Trinity at Puri.