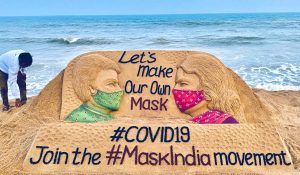 By Bizodisha Bureau, Bhubaneswar, May 15, 2020: Odisha government has rolled out a mobile coronavirus testing van to fight coronavirus pandemic successfully in the state.
The mobile van is expected to enable health officials to collect samples at the doorstep. In a one-of-a-kind move in Odisha, the first 'COVID-19 test lab on wheels' has been started in Gajapati district of the state.
According to Gajapati district collector, Anupam Saha, people residing in all 149 Gram Panchayat of Gajapati will be examined for COVID-19 with the help of this mobile van.
The mobile testing van is modified in a way that health officials can sit behind a glass casing and collect nasal and the throat swabs of the people. Moreover, the van can easily get into lanes and by-lanes of very densely populated areas of the district. The van also ensures that the health officials are not exposed to the people getting tested, by wearing gloves that protrude out of this glass casing of the van.
Furthermore, the van has a provision of disinfectant, drinking water, disposal of clinical waste and a drawer for safe keep of swab samples.
Till now, Odisha has been able to curb the spread of the novel coronavirus to some extent. According to the chief spokesperson of Odisha government on Covid-19, Subrato Bagchi, till Friday afternoon 672 positive cases were detected.