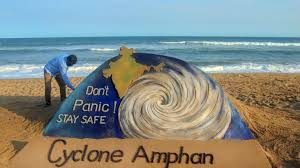 By Bizodisha Bureau, Bhubaneswar, May 20, 2020: Cyclone Amphan left a trail of destruction in Odisha as it triggered heavy downpour coupled with high-velocity winds before it has made landfall in West Bengal.
More than 1.41 lakh people living in low-lying areas and thatched and mud houses in the vulnerable coastal regions were evacuated and shifted to cyclone shelters. The evacuees were accommodated in 2,921 shelters where cooked food and other facilities were provided, officials said, adding that the cyclone developed and moved as per the IMD forecast.
"It took exactly the path forecast by them. I must thank the IMD, particularly its Director-General Mrutyunjay Mohapatra, as their accurate predictions enabled us to handle the situation ably," the special relief commisoner, Pradeep Jena said. As the cyclone passed along the Odisha coast, it unleashed intense rainfall in several areas of Puri, Khurda, Jagatsinghpur, Cuttack, Kendrapara, Jajpur, Ganjam, Bhadrak and Balasore districts since Tuesday.
Amphan is considered to be the second major cyclonic storm in the Bay of Bengal after the super cyclone of 1999 which had claimed around 10,000 lives and inflicted large-scale devastation in Odisha. The cyclone comes a year after Fani barreled through vast parts of Odisha on May 3, claiming at least 64 lives and destroying vital infrastructure.
Kolkata and nearby areas saw winds of over 100 kmph and pounding rain after Cyclone Amphan, one of the worst storms over the Bay of Bengal in years, made landfall this evening towards Sunderbans, a marshy region famous for its mangroves. Three people have died and many buildings in Kolkata were damaged.
The eye of the cyclone was 30 km in diameter, India Meteorological Department (IMD) Director General Mrityunjay Mohapatra said. Over five lakh people have been taken to shelters in West Bengal and over one lakh in Odisha, the National Disaster Response Force (NRDF) chief said today in a press briefing.
As per initial reports, a large number of trees and electric poles have been uprooted, while many thatched and mud houses were flattened due to the cyclonic storm, the SRC said. No major damage has been done to the telecommunications infrastructure and the services remained by and largely unaffected, he said.