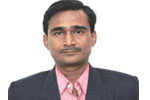 By Nageshwar Patnaik in Bhubaneswar, March 21, 2020: It is unfortunate that Indian political field has virtually become an open cattle market where our politicians are more or less treated as commodities to be bought and sold by the highest bidder. The elected representatives are being herded like cattle to resorts, star hotels or feeding grounds to protect them from poaching by latest bidders. Our democracy has been brought to such a sorry pass if the political drama in Madhya Pradesh is any indication.
Jyotiraditya Scindia resigned from Congress and joined BJP, the party of his grandmother and two aunts. And the resignation of 22 Congress MLAs loyal to him, who crossed over to the BJP last week has sealed the fate of Kamal Nath government.
Nath as expected resigned on Friday as Madhya Pradesh Chief Minister without facing a test of strength following the Supreme Court direction on floor test. The BJP's Shivraj Singh Chouhan, a three-time Chief Minister, is likely to return to power.
Nath knew that his Congress government was certain to lose after the exodus of MLAs. The Congress's majority in Madhya Pradesh was always shaky and dependent on fractious allies. The 22 Congress MLA's resignations brought down the total strength of the assembly to 206. The ruling party has 92 members and seven allied MLAs, at least five short of a simple majority of 104. The opposition BJP has 106 MLAs after one resigned.
The Congress, desperate to win back the rebel MLAs, had tried to buy time but the Supreme Court, petitioned by the opposition BJP, ruled that the "state of uncertainty" should be effectively resolved by a floor test to be held by 5 pm on Friday.
As the Karnataka experiment gets repeated in Madhya Pradesh, the worrying factor for democracy is that MLAs are happily courting disqualification or tendering resignations for a better deal in the new dispensation.
The 1960s and 1970s political arena was marked by 'Aya Rams and Gaya Rams', the coinage credited to Haryana MLA Gaya Lal who changed his loyalty to parties thrice in a short span of time in 1967. Bhajan Lal in 1980 had defected to Congress after Indira Gandhi returned to power post-Emergency. He along with his ministers and MLAs merged with Congress to remain chief minister.
Probably that made Parliament in March 1985 to insert Tenth Schedule, which then had validated defection of one-third of MLAs of a party and merger of one party with another if two-thirds of MLAs of the merging party favoured it.
The Tenth Schedule gave the Speaker of Lok Sabha and assemblies unquestionable power in deciding petitions seeking disqualification of
MLAs under the anti-defection law. This was challenged in the Supreme Court, which by a slender 3-2 majority in Kihoto Hollohan case [1992 Supp (2) SCC 651] ruled that Speakers, while deciding petitions under anti-defection law, exercised judicial powers akin to a tribunal and hence their decisions would be subject to scrutiny of HCs and the SC.
Since then, the SC has been called upon numerous times to decide the validity of Speakers' decisions under the anti-defection law, which indicated rampancy of defection and Tenth Schedule's limited deterrence effect.
The Tenth Schedule, inserted in the Constitution in 1985 after bitter experiences of governments falling prey to defections of MLAs, is silent on this new resignation formula to destabilise governments.
Recently Karnataka and Maharashtra have exhibited corrupt practices of floor crossings, horse-trading and back-stabbing. The repulsive example Ajit Pawar who jumped into BJP territory to become the Deputy Chief Minister at least for a day and then his return as a repentant prodigal with fawning tears and crawling in front of his uncle demonstrate monumental mockery in democratic practice.
Winning pliable persons by poaching in the enemy camp is becoming a remorseless predatory exercise rather than an exception. Thanks to Mr. Gaya Lal of Haryana, the Ayaram Gayaram phrase become an oft-repeated one all over India. This Haryana MLA gate-crashed into the Guinness Book of Records by changing his party thrice within the same day in 1967.
Finding split and merger concessions in the Tenth Schedule getting exploited repeatedly, the NDA government under Atal Bihari Vajapayee through Parliament effected the 91st Constitutional Amendment in 2003, which prohibited defections through split and merger. It also capped the number of ministers in a government as experience showed that the carrot of ministerial berths to engineer defections led to jumbo-sized council of ministers.
With the anti-defection law plugging exit routes for MLAs and given the mind-boggling cost of re-election, it was hoped that there would be political stability in governance after exploration of opportunities for post-poll alliances between parties.
But the political manoeuvres of BJP in federal governance, increasingly resemble the machinations of Congress in the last quarter of the 20th century. Which is why, the anti-defection law appears to be in need of some urgent surgical treatment through constitutional amendment.
The SC in the Karnataka rebel MLAs case had said, "His (Speaker's) political affiliations cannot come in the way of adjudication (of disqualification petitions)… There is a growing trend of Speakers acting against the constitutional duty of being neutral. Additionally, political parties are indulging in horse-trading and corrupt practices, due to which citizens are denied stable governments. In these circumstances, Parliament is required to reconsider strengthening certain aspects of the Tenth Schedule, so that such undemocratic practices are discouraged."
Probably, the solution lies in creating an independent authority to deal with disqualification of MPs and MLAs under the Tenth Schedule.