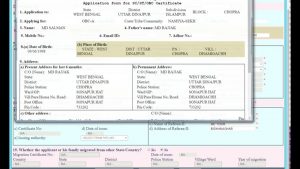 By Bizodisha Bureau, Bhubaneswar, December 28, 2019: In yet another move to provide hassle free public services, the Odisha government has facilitated online availability of official documents like caste certificate, income certificate, residence certificates.
Common men can apply for these certificates from anywhere and don't have to pay any fees to avail these certificates. While income and residence certificates will be given on self-certification and caste certificates will be issue as per prescribed provision.
The e-certificate project is part of the 5T model of governance by the revenue and disaster management department was launched by chief minister Naveen Patnaik here at the state secretariat on Saturday. The move is aimed to benefit around 5 million applicants each year, said official sources.
Naveen said since these services are rights of people, they don't have to give any fees.
"The applicants can apply for various certificates by visiting the edistrict.odisha.gov.in portal. Once their applications would be approved, they can download the certificates from the portal or from their mail inbox. The move is aimed to provide necessary government documents in a hassle-free and time bound manner," state revenue and disaster management minister Sudam Marndi told reporters.
The revenue department has also asked various recruitment agencies and educational institutions to allow the applicants for self-declaration of their caste and resident status. "After provisional selection, applicants can be called upon to produce certificates like caste and resident for scrutiny," the official said.
The chief minister, on the occasion, also announced abolition of solvency certificate to ascertain the financial status of a person/firm while issuing various licenses by government departments.
Instead of solvency certificates, the departments can now ask for documents like bank guarantee and IT returns while issuing licenses to storage agents, grant or renewal of excise license and quarry lease, said official sources.
Similarly, legal heir certificate will not be required for payment of government dues. On death of any government employees, dues like pension/family pension, gratuity, leave salary will be paid to the legal heirs based on the entry in the service book.
The move to do away with the solvency certificate and legal heir certificate to get dues is aimed to streamline the application process and expedite the approval.
The chief minister also launched a mobile app 'Pauti' that facilitates online payment of land revenue. Citizens don't have to go to revenue inspector or tehsil offices for payment of land revenue as they can now download the application and pay anytime and anywhere.
The revenue department said all these moves are aimed to empower the citizens and to strengthen the service delivery system, said the revenue minister.