Dr. P. K. Jena in Bhubaneswar, October 18, 2019: Persons who attain the age of 60 years and above are called senior citizens. The number of senior citizens all over the world is on the rise with increase in longevity. As of now, the population comprising senior citizens is around 70 crores in the world and 10 crore in India.
Unfortunately, the society in developing countries like India, consider senior citizens as almost redundant. Most of them live at the mercy of younger members of their family as well as of the society. But, in developed world, the senior citizens are considered as superior assets of the society. The state provides facilities to them to have better living with health care. In developed countries the talented senior citizens in their respective fields get better opportunities to serve the society as long as they can. For example, professors and scientists in those countries are employed as long as their able to work and feel proud for building the nation along with their juniors.
In contrast, in developing countries like India generally after 60 years, people retire from government services and even the most efficient person is considered officially ineligible even though he is very much capable and desires to work. Similarly, after retirement, many scientists and educationists from India get opportunities to serve as Senior Visiting Professor, or Scientist or Engineer in many developed countries.
As a matter of fact, after retirement, I have worked as visiting professor in some developed countries till I was 73. Many Indian senior citizens in the areas like education, research, engineering etc., who work in other countries on invitation, have helped in training many of their younger people. The senior citizens from India not only get good opportunities in those countries to work in their respective areas but also they get recognition and respect as Senior Advisors.
I would like to mention here that, when I was a school student in my village, 75 to 80 years back, the senior citizens in my village used to get respect and we also considered them as Godly persons. Because of their vast experience, in almost all occasions, they used to be consulted and their opinions and advises were accepted by the villagers.
However, now some young ones in the village having political support impose their decisions on different matters on the villagers. It is surprising that, in the present time, the attitude towards senior citizens in India is highly disappointing particularly in rural areas. The people in the society instead of consulting them in various matters completely ignore them.
Consequently, the senior citizens feel very much neglected and most of them lead a very disappointing and lonely life. In fact, most of the senior citizens being skilled in their respective areas should be considered as assets of the society. They would be also very happy to guide younger generation in their respective areas. This is how our society can be enriched.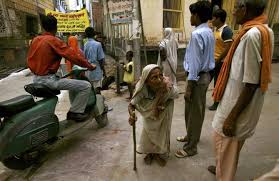 It is heartening to note that the Government of India has realised this and few years back, have set up the Ministry of Social Justice and Empowerment to undertake various programmes mainly to take care of the senior citizens. Presently in many programmes through various organizations (financed by the Government of India), some senior citizens get shelters, facilities and financial assistance towards their boarding, lodging, health care etc.
However, it would be better if all the senior citizens are engaged in some developmental activities based on their expertise while getting the financial assistance. This should give them the feeling of participation in helping the betterment of the society. This would give them the feeling that they are productive and still needed by the society.
It may be worthwhile to give a couple of suggestions in this regard. In educational field in India at present particularly in the higher education area, a lot of vacancies in different educational institutions are found and as a result the students do not get enough opportunity to learn their respective subjects properly. It would be better if a system is developed where the retired teachers are invited to teach till the vacancies are filled up by the new ones. In this way while the retired teachers earn their living, the students get better training from these highly experienced persons.
This experiment also can be carried in many technical departments of the government as scores of crucial key projects get delayed because of the lack of skilled personnel. Therefore, some clear cut systems should be developed by the Government so that the skilled and experienced retired persons can be engaged in important programmes and projects till these are completed. They also can play a key role in conducting various training and awareness programmes for various concerned organizations, particularly the educational institutions and also bringing awareness among common people about natural resources, environment, water resource development, waste management etc.
To sum up, the talented senior citizens in the country in various disciplines should be roped in to train the younger generation and also the common people. In this way, the senior citizens can get the satisfaction that their services and expertise are being recognized and utilized by the government for betterment of the society, and the country would thus benefit socio economically. The senior citizens would get the satisfaction that they are still needed and able to help the nation to be rich and prosperous.
(Former Director General, Council of Scientific & Industrial Research, India)