By Vivek Pattanayak in Bhubaneswar, July 29, 2019: The Lion Air crash last October and the Ethiopian Airlines disaster in March killing as many as 346 people has created a huge uproar in the aviation industry. Incidentally, both the ill-fated planes were Boeing Co.'s 737 MAX aircraft. All the airlines and safety agencies were forced to stop Boeing 737 Max 8 from flying on any active commercial duty.
Boeing – an icon in the aircraft manufacturing is now facing a massive challenge. First, its credibility is now at a stake like never before. Secondly, Boeing's 737 MAX grounding has spilled over into US economy with Indonesia already cancelling orders of this type of aircraft wholesale
The 737 Max – the newest version of Boeing's best-selling commercial jet was pitched as an even more reliable version of a long-trusted plane, complete with engine updates that made the plane more fuel efficient.
But the Chicago-based aerospace giant, which reported its largest-ever quarterly loss of US$4.9 billion Wednesday, had introduced a new flight control system called the Maneuvering Characteristics Augmentation System (MCAS) which appear to have developed some technical snags. That MCAS was designed to make the plane behave as similarly as possible to past models, with minimal new training for pilots. It was later discovered that the system can override pilots' manual controls in certain rare but dangerous situations, pushing the plane into a nosedive.
What is worse is that the much revered aviation regulator FAA had allowed self-regulation to Boeing, the manufacturer who they are expected to regulate. And now that the Justice Department in USA has initiated criminal investigation involving Boeing and FAA, the global giant faces an acid test in the coming weeks as scores of multiple compensatory damage civil suits have already been initiated.
Nevertheless, attempt has been made to boost Boeing's significant status as a pioneer in modern aviation industry after the recent Paris air show by some friendly companies. A generous African airline chief had suggested change in the name of this variant of aircraft at an international conference of IATA. But it is doubtful whether the customers' confidence would so easily get revived.
Not that in the past a new variant of aircraft after an accident had not raised eyebrows with regard to its safety and airworthiness, as was the case with regard to A320 fly-by-wire aircraft with the grounding of thirty such aircraft in India but it was more for political reason and not on consideration of safety. Even during the demonstration flight, the aircraft had crashed at Mulhouse under the command of one of the most experienced test pilots of Europe.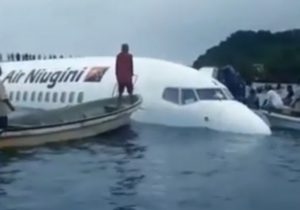 No wonder many had questioned the wisdom of operating computer driven fly-by-wire aircraft carrying passengers. Nevertheless the transition to fly-by-wire technology reducing human interface with machine has now been generally accepted.
In case of glitches and abnormalities seen during the flight the pilot in command could take over manual control. In the past many accidents had taken place when the pilots depended more heavily on the machine over his or her personal flying skill during emergencies as it happened to the Korean aircraft in the West coast of US few years ago.
In fact it was found in many cases the new generation of young pilots lost the dexterity of taking over manual control because of over-dependence on automation. Now it seems there is emergence of a new unexpected safety problem when the pilot is unable to take control as the computer software which operated control system rejects the pilot's command, simply a puzzling situation for safety. There is no doubt that the experts in Boeing would be able to rectify this serious flaw but it would nevertheless leave an irreparable damage to the reputation of the manufacturer for many years to come.
In the background of these developments, the stake-holders in the aviation have not forgotten mysterious disappearance of MA 370. No clue has yet been found about the cause of loss of lives and the hull. Was it an act of terrorism or incompetence or mischief of pilot in command to have changed the flight plan and the route, nobody possibly knows.
Now there is conclusive evidence that another Malaysian airliner was destroyed by missile attack during the civil war in Ukraine reminding the aviation world of most unfortunate loss of Iranian aircraft over the Persian Gulf by irresponsible act of the US Navy and also deliberate act of destruction of the Korean aircraft over the Sakhalin peninsula both during the height of cold war.
It is needless to remind the civilized world as to what happened to Kashmir princess in the early days of Cold War in the fifties on the eve of Bandung Conference and then to Kanishka during the height of Sikh militancy, PANAM aircraft at Lockerbie during the beginning of the State sponsored terrorism and the French passenger aircraft over the African airspace most of the hull losses being due to criminality during the troubled eighties. Horror of 9/11 the worst in annals of aviation history is too well-known to recount.
M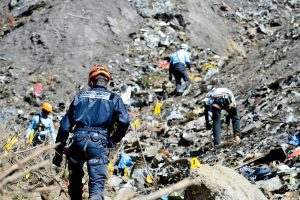 emory is fresh about the tragedy of the Germanwings Flight 9526 flying from Barcelona to Dusseldorf when co-pilot locked himself in the cockpit and kept the captain out and deliberately crashed the aircraft on the mountains killing all on board.
The recent scary emergency landing of Air Canada B777 on its flight to Sydney from Vancouver at Honolulu when it encountered massive turbulence with 37 passengers having suffered head and neck injuries, and on the same day emergency landing of one of the oldest aircrafts of Delta airline at Raleigh after fire was detected on an engine and smoke inhalation by passengers have created some concern among general public. First, the commander did not give adequate warning to the passengers of the impending turbulence in spite of the aircraft is equipped with most modern weather radars. Second, how could Delta allow a thirty-five-year-old aircraft to operate with passengers on board without adequate maintenance checks?
In the past human error was always ascribed to aircraft accidents. Terrorism, deliberate or irresponsible military act were also the causes of loss of lives along with destruction of aircraft. Now with 737 Max, airworthiness and control systems are under the cloud although the test pilot in A320 Mulhouse accident had questioned the fly-by-wire system. Maintenance of aircraft on the ground and its certification have been the cause of concern for years.
There has been for years loud chorus of voice for retiring the old generation aircraft. Domestic safety regulators in most of the countries like DGCA, CAA etc. have been over dependent upon what FAA certifies. They are neither technically competent to certify nor do they have necessary wherewithal and expertise to counter check what has been generally outlined by FAA.
Aviation has come a long way since the days of the Chicago Conference of 1944 with changes in technology in navigation, monitoring of weather changes during flight, on flight data exchange due to computerization, engine designs, fuel composition, concern for environment, phenomenal increase in number of passengers and their consciousness about their rights with proliferation of electronic and social media thanks to internet, penetration of aviation into different and remote parts of the world and increasing dependence on air transportation for trade, business, tourism and logistics and supply chain and more so due to increasing population particularly the size of the middle class. At the same time threat of terrorism has not waned and new malady of suicidal tendency has appeared.
Time now, therefore, has come for ICAO, the international regulator to review the whole process, and not remain complacent with mere routine development of standards and recommended practices (SARPS) and preparation of manuals, codes, circulars, and digests .It is generally complained that international body is only reactive and never proactive. Often, it is alleged though not openly expressed that the Organization, due to undue pressure and lobbying of major contributors and some leading developed countries of the world, allows preponderance of influence of business, commercial and trade bodies.
Aviation industry dependent upon fossil fuel whose cost accounting for forty percent of total operating cost is subject to vagaries of oil market sometime affected by tension in the Middle East, sometime by unreasonable sanctions and most of the time by dictates of OPEC, and monopoly of few countries like Saudi Arabia, Russia and of late by shale oil rich America. No wonder airlines have not made adequate surpluses to service the investors' interest to make them vibrant and entrepreneurial.
Since the end of the Second World War when civil aviation made spectacular presence in business, commerce, trade and industry nations entered the aviation world with their national carriers whether commercially viable or not enthused by patriotic fervor. Over more than seventy years after representing the pride of their countries as many national carriers have become sick, moribund, and unviable even in the Western developed countries some have been taken over substantially by carriers of other nations making the concept of national carrier anachronistic.
Traffic rights have expanded from traditional five freedoms to ten freedoms now. Cross border take-over of business has become quite common even in civil aviation. In spite of these sweeping changes in business philosophy casting aside classical doctrine of dirigisme of the post war, yielding place to liberalization, there are tensions between the American carriers and Gulf airlines one accusing the other of heavy subsidization of national carriers, and also accusations are levelled that unreasonable unjustifiable hurdles are imposed on airlines of the Middle East in the land of the Mecca of liberalism.
Recently, due to US-Iran tension the Middle East airlines are encircled by airspace closure to the east, west, north and south and in addition to closure of Pakistani air space for flights to and from to India due to Indo-Pak conflict situation the airlines have chosen alternative longer routes and even cancelled flights giving rise to losses.
After spate of mergers and acquisitions, code-sharing, joint flights and metal neutrality, there was sudden spurt of budget airlines known also as low cost carriers who flourished temporarily producing unusual tremors in the industry and went through a process of cut-throat competition and then to end up as sick companies, and finally came bankruptcies leaving behind huge quantities of non-performing assets among banking institutions.
India touted as the potentially the fifth largest market by 2030 also had a share of this unpleasant phenomena with disappearance of East West, Modi-Luft, Vayudoot, Air Deccan, scandal associated with Kingfisher which had acquired the first budget carrier of India, Air Deccan to bail it out during its decadence, and now one-time leader of the Indian aviation market, Jet Airways which had also come to rescue Sahara Airline is grounded with no certainty about its future with heavy debt.
Highly subsidized national carrier, Air India known as the Maharajah during its halcyon days under the leadership of the iconic entrepreneur JRD Tata ,the winner of the prestigious Edward Warner award of ICAO, now is under the burden of mammoth debts in spite of repeated bailouts by the central government and PSU(Public Sector Undertaking) banks.
Much publicized attempt to privatize Air India during the just concluded first term of NDA ended with no conclusive deal in spite of the claim that the government was decisive. Although the Finance Minister after budget has given hope of a trillion-dollar economy by 2024 and has assured the market that there is no policy paralysis, one must wait and see what course would be adopted to decide the future of Air India. If an economy would have to expand by such a magnitude it can ill afford to ignore the sustainable growth of air transportation.
Having said all that air transport continues to be the safest mode of transport in the world notwithstanding the fact that global aviation is going through turbulence and the dark clouds are hovering over the Indian aviation.