By Biswaraj Patnaik in Puri, April 1, 2019: As if by divine coincidence, the severe cyclonic storm of 1999 caused unthinkable damage and disaster and eventually dislodged Congress regimes mainly headed by Janaki Ballav Patnaik and temporarily by a confused Giridhara Gomang emergently deployed by the high command heavily surrounded by Janaki spies. The Congress era was over for good.
The newly formed BJD was given a rousing welcome, with Naveen Patnaik as boss. Some of the frontline founders of the party had imagined Naveen would only be a puppet dancing to their tunes and taking orders. The Naveen-headed party had landslide victory, and soon it was known that Naveen is no novice or greenhorn in matters of human affairs. He had his vision clearly spelt out and the team mates were told clearly how to go about implementing projects and schemes based on his ideas, without modifying ideas or protesting even once.
The cool, firm steel in Naveen emerged slowly. Rightly then, he took inducted late Pyari Mohan Mahapatra as the principal advisor and history was created across tenures until Pyari fell out dramatically in 2012. Post Pyari too, Naveen continued to flourish even better than before. Around this time, a strange phenomenon called the 'Naveen Mystique' was coined by political gurus and analysts keenly watching Odisha politics from all over. Naveen took reins when everything was in bad shape due to Congress misrule, corruption and lastly the devastation due to the super cyclone. Immeasurable support and help in cash, kind and labour poured in from everywhere around the world.
The Naveen government did its best to ensure maximum amount of material goods and other support services reached the distressed and the neediest without visible pilferage and robbery. Unfortunately though, a huge number of NGOs, perpetually languishing without money or support ever since inception, cropped up to be chosen as helping and supplementing outfits.
A majority of these social work agencies headed by rabidly greedy founders made such hay as the sun kept shining. A few of the NGO heads slavishly kept brushing shoulders with the powerful administrators and cut a niche for themselves to earn false glory which they capitalised later very effectively to remain in the public good book. The post cyclone reconstruction efforts lasted nearly a decade and everyone involved made fortunes without being noticed. The audit system was purposefully kept off as the work was mostly on firefighting mode.
Between the 1999 super cyclone and now, three severe cyclones have blown over Odisha. But the preparedness the Naveen administration has learned by now is considered enviable even by the US disaster management experts. 'Phailin', 'Hudhud' and the latest 'Titli' have all come and gone. The Odisha disaster outfit, which did not even know how to clear roads and recover dead bodies to consign to flames, is now rated the best in the world.
Cyclones in the Indian ocean region did not have a name until the most destructive super cyclone blew over the Odisha coast on 1999. Soon, the process of naming cyclones in the region began seriously in 2000 and the super cyclone was retrospectively named 'Paradip Cyclone' for records. The naming involves several countries in the region and is done under the aegis of the World Meteorological Organization. A formula was agreed upon in 2004 by eight countries in the region – Bangladesh, India, Maldives, Myanmar, Oman, Pakistan, Sri Lanka and Thailand. All contributed a set of names which are assigned sequentially whenever a cyclonic storm develops.
The name 'Nilam' was contributed by Pakistan, while another was called 'Murjan' by Oman. Likewise, 'Mahasen' came from Sri Lanka and 'Phailin' from Thailand.
The names from India added to the database include 'Agni, Akash, Bijli, and Jal' that have occurred already. In store are 'Leher, Megh, Sagar and Vayu', while Pakistan gave 'Nilofar, Titli and Bulbul'.
Unlike in the past, it is so much the easier and less confusing to say "Cyclone Phailin" than remember the storm's number along with its longitude and latitude. Most importantly, it gets a lot easier also easier when you have more than one storm to track.
Nearly two decades later in 2019 a severe tropical storm is approaching the Odisha coast. They have named it 'Fani' as suggested by Bangladesh. 'Fani' means the hood of a big cobra.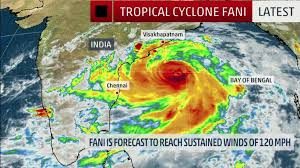 The cyclone 'Fani' will come and go and the best disaster managers of the planet will take utmost care to ensure minimum damage is caused to life and property. Interestingly, the divine foretellers say that all natural disasters have proven Naveen to be a good saviour Chief Minister- kind if a Messiah! The 1999 disaster dislodged the horribly defamed regimes. So it is expected to witness Naveen coming back to power, against small odds, though, to prove his administrative mettle even better. The BJD regime reconstructed a badly devastated Odisha due to Congress misrule and the destructive tropical cyclone eight at the outset. Severe cyclone 'Hudhud' happened in 2014 with a devastating landfall near Visakhapatnam on Andhra coast.
The Odisha disaster management masters rushed there and did such a most magnificent job that Naveen got a 'superHero tag'. The Odisha outfit had not only reached cyclone affected pockets earlier than their Andhra counterparts, but also rendered such services so fast and so efficiently as the local experts would not ever be able to conceive, let alone render. Andhra Pradesh had stood by Odisha during the super cyclone in 1999. Naveen returned the favour multifold and in a stunning manner.
As the state authorities are bracing up to face 'Fani', the residents are not so badly panicked because they know the Naveen administration would look after them well and keep them safe.
The cyclone memories are critical for forecasters and fortune tellers as some of them have said that one most cyclone had brought Naveen to a centrestage spot in Indian politics; the current one- 'Fani' rushing closer every hour may embolden Naveen's position as a magician chief minister who has been gaining ground in an ascending order ever since the beginning of the millennium.
Naveen and team know just too well that 'Modi' cannot be dismissed this time around- more because of the Congress president ridicules the prime minister in a manner that is not socially acceptable or tenable in any court of law. He calls Modi names that irritate even the worst Modi adversary. Further, the biggest irritant close to the Congress fold is one Robert Vadra, husband of Priyanka Gandhi who keeps marring all remote possibilities of a Congress comeback.
The even more hurting fact is that Vadra's ordinary mother Madam Maureen is enjoying special security cover as if she is a top dignitary with dangerous threat perception. It is believed that the Modi administration is slyly helping these ineligible characters to keep them happy for some strange political purpose. All greymatter Congress leaders have no courage to question Madam Sonia as to how a most ordinary woman is accorded a security cover hugely out of proportion.
Thus Modi supporters are doing great anti-Congress propaganda in good time. Sonia has not spoken a word about such terrible things even once to at least deny knowledge. Priyanka has lost much of glamour because of being Vadra. She is hardly a force to reckon with anymore. The present-day Congress Gandhis have lost respect for having grabbed the priceless property of National Herald by guile. Lastly, the mother Sonia, as the head of the Rajiv Gandhi Foundation, has chosen kids Rahul and Priyanka to receive best performer awards for contributions not known to any except the giver and the two takers. Incidentally, the two are also core members of the body.
Thus Modi is for sure. And hopefully, he will mellow down a lot from his laughable 'loudmouth madness'. He calls self a 'chaiwallah', yet sports one million rupee clothes, designer watches and spectacles. It is predicted that Modi will fall short of the comfortable number; will be forced to seek support from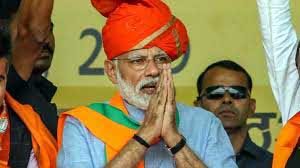 neutral regional outfits like the BJD by striking mutually helpful deals. Mamata Banerjee will continue with tirades until law grabs her to silence. Mamata has every right to oppose any party or political person; but she has no right to protect bureaucratic functionaries of any stature when enforcement agencies are looking for the mouth some evidence of complicity in unlawful ventures.
Despite big rumour of an undercurrent support for the saffron party on Odisha, the BJD will win to retain power. The grassroots penetration of BJD is so deep, and the masses are so Naveen-crazy that defeat seems highly improbable.