By Biswaraj Patnaik in Puri, February 27, 2019: The whole world watched a horrifically rattled Pakistani Prime Minister Imran Khan at an emergency meeting with the executive and top Military leaders discussing next moves in the wake of the IAF attack on terrorist training camps in the mainland territory of Pakistan unabashedly harbouring militant outfits and facilitating terror-tactic training to misguided youth communities only to cause harm and havoc in India.
Imran looked so pale and sheepish that he forgot to put on an attire befitting a PM's dignity. Clad in a leather jacket and a scarf hanging down from the shoulders, he kept oscillating like a clock pendulum in his swivel chair- an act that clearly showed he had gone witless. The Pakistani military, which is the de facto ruling class, was forced to remain mum for having failed miserably to sense or sniff the danger in time.
Most interestingly, Pakistan first went on a denial mode saying India did not have the courage or skills to strike any part of mainland Pakistan. The Foreign Minister Shah Mahmood Qureshi said that Islamabad would take international media to the area of the said strikes to prove nothing eventful has ever happened.
Earlier, in a series of tweets, Director General of Inter-Services Public Relations, Major General Asif Ghafoor had claimed that no infrastructure of any kind anywhere was damaged. A Pakistan journalist too claimed that nobody was killed in the airstrike by India.
To top up the bluff sheet, one Pakistani strategic expert dropped to the shameful extent of blaming the Indian authorities for having offended the Paris agreement. He accused the Indian Air Force for not respecting the climate change precautions because the airstrike did happen but deep inside the country away from habitation or military establishments, resulting in some trees having been knocked down. Damaging or destroying trees in a forest land is an international crime as per the 'Paris agreement on climate change'. So they might knock international environment tribunals to have India penalised.
But by now the international fora had begun taking notice of the airstrike carried out by India on Jaish-e-Mohammed's biggest training camp at Balakot in the Khyber Pakhtunkhwa region.
As such pretentious and farcical acts by the Pakistanis kept unfolding after the Indian air strike; people across the world became doubly certain that the IAF had done some job to put a big scare across the Pakistani establishment.
Back home in India, revellery was its peak as the masses had gone crazy over the long overdue act of invasion. After ages, the Indian Air Force got an opportunity to display its power and skills in enemy territory. Even during the Kargil fireworks, the Air Force was never considered critically necessary. What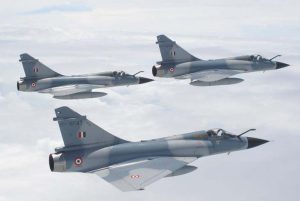 was most certainly lacking all this time is a strong political will. Despite countless acts of insurgency and terror by Pak-backed militant outfits, India never hit back fittingly. The failed state of Pakistan, now a degenerate one, is still a military regime with uniformed rulers calling all shots and rendering the elected political executive a bundle of puppets to dance to weird tunes as composed by the arms-wielding generals.
Although Tuesday's events represent India's most significant airstrike against Pakistan, to be precise the most serious escalation in decades, experts caution that the two countries are still very far away from that frightening scenario of a nuke misadventure.
Imaran Khan, a cricket warrior of repute, did manage to occupy the make believe hot seat of power, but without much skill or knowledge in state craft or diplomacy. Apart from cricket, he had earlier picked some skills in fundraising to set up a cancer hospital because his mother had succumbed to that unruly ailment.
The airstrike was conducted 12 days after the terroist group JEM killed 40 Indian soldiers in a suicide bombing in Pulwama of Jammu and Kashmir.
In a statement to the American news and opinion website 'Vox', Michael Kugelman, a South Asia expert with the Wilson Center, has said that it was more likely that the conflict would play out in words than in actions. "Look for each side to vent and blow off steam for a while so that angry constituencies are appeased. And then we can assume the smoke will clear," he said further.
Lately, Pakistan's response so far suggests that it may be trying to deescalate things. The failed state with an immature prime minister and a frightened military have eventually confessed to have been struck hard though they still keep saying 'not much damage to property' and absolutely no loss of life. India however has organised robust proof about extermination of at least three hundred terrorists including several masterminds that have been causing headache to mankind for decades. The Kandahar blunder has been made good in a way though at a very high cost.
After being put to shame on several scores, the Pakistani prime minister has promised to act. Which means there is a chance of things continuing to escalate – a possibility Kugelman acknowledges.
"If India decides to stage another strike in quick succession, then all bets would be off and some type of Pakistani retaliation could follow," Kugelman says. "Also, if there's another terrorist attack in Kashmir claimed by a Pakistan-based group, which could lead to escalation in a hurry."
All said and done, Indians have every reason to rejoice. The ever rusting military hardware including the sophisticated fighter aircraft have been put to noble use it was acquired for. The Indians have proven no less capable than the Israeli combat team that rescued brethren from Entebe in Uganda decades ago in the dead of night or the American troopers that swooped in on the cosy abode of Osama bin Laden to kill the terrorist in Abottabad virtually in the suburbs of the capital region of Pakistan. They also had flown in stealthily in the dead of night and completed the mission without the super military brains of Pakistan being able to sense anything. The Indian fighter pilots did exactly the same. They made their kill at 330 am much before the Sun beamed the halo of predawn brightness.
Lastly, the reality check on the possible poll advantage to the ruling Modi regime: it so appears that Modi has bagged quite some fame as a leader with guts, particularly in matters of dealing with cross border terrorism fuelled by the failed state of Pakistan. The people of India had been frantic to see action.
So, laurels are due to the Prime Minister anyway. All the same, it is still not so much action to toss all votes into his box. The major issue lurking strongly at the back the ordinary Indian's mind is the fact that Modi has done precious little about the contentious articles 370 and 35A that give Jammu and Kashmir to treat rest of India as alien. Modi had promised to scrap the two but hasn't had the guts to do so now. 370 makes the people of J&K so special to get unusual benefits including a Constitution of their own. They have therefore a six-year Assembly tenure.
Article 35 A which is perpetually considered unconstitutional by all super brains gives them the right not to permit outside state citizens to buy land and set up home. The Muslim-heavy state therefore is becoming hyper-Islamic and the Hindus and other minorities are dwindling down to a miniscule number. Scrapping of 35 A can only let in all other communities and lead to a balanced demographic profile which will moat certainly restore communal harmony and the resultant ideological integration with the Union of India. Needless to say the insurgency craving is boosted by the fundamentalist Islamic class of Pakistan that captures the imagination of the Kashmiri youth easily and indoctrinates them into the militancy ideologies with insignificant enticements or baits.
Very shockingly, young Shah Faesal, who quit from the IAS service in January this year, had said earlier that his resignation was to protest against 'unabated civil killings in Kashmir, and lack of any sincere reach-out from the Union government; the marginalisation of around 200 million Indian Muslims at the hands of Hindutva forces reducing them to second-class citizens; insidious attacks on the special identity of J&K and growing culture of intolerance and hate in mainland India in the name of hypernationalism.' He had condemned the Pulwama killing without mincing words. But when the Indian strike happened two days ago, he derided the government officials saying, " Strange is it that the mourners at Pulwama killings are rejoicing over the devastation of life in Pakistan!"
This indicates India has to strike even more furiously- both on the warfront and having to dispel the insurgency and separatist psyche of the local youth who dread and hate civil killings without ever realising that militancy in any form is antihuman. The Kashmiri youth have to be exposed to vigorous delearning exercises and processes.