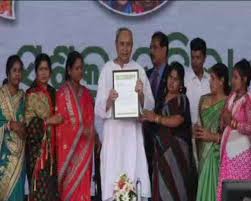 By Bizodisha Bureau, Bhubaneswar, January 5, 2019: Chief Minister Naveen Patnaik on Saturday announced to provide loan to women Self Help Groups (SHGs) with zero per cent interest under Mission Shakti programme at a special function at Puri.
Naveen skipped the official programme of Prime Minister Narendra Modi at Baripada and attended the State-level convention of women SHGs.
The CM announced interest-free loan upto Rs 3 lakh for the women SHGs in the State. This would benefit around 70 lakh women associated with six lakh SHGs.
At a State-level convention of Mission Shakti groups at Talabania Sports Complex here, the CM also announced that cheque of Rs 15,000 will be given to three lakh new Women SHGs as seed money. Besides, Patnaik announced to provide financial assistance of Rs 3,000 to each SHG for smartphone.
The CM had announced to provide smart phones to six lakhs women SHGs during the Make in Odisha conclave last year, in a bid to empower them digitally and further accelerate their socio-political and economic empowerment.
Besides, revolving fund of Rs 25 lakh will be given to 338 existing block federations in the district.
More than 60,000 members from 29,000 women SHGs from various places across the State attended the programme.