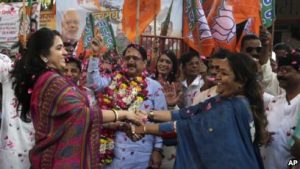 By Biswaranjan Patnaik in Puri, January 10, 2019: Suddenly, one fine morning, the Modi administration declared a 'out of the world' scheme to help the upper caste poor come up. Perhaps his insane advisors whispered into his ears mad parameters: any family with an annual income of eight lakh rupees or below is poor; owning less than five acres of agro land is destitute; and any family living in a house with a floor area of one thousand square feet, no matter how luxuriously finished, is a beggarly entity.
These parameters, appear to be lunar or Martian. Strangely, it is not mentioned if one with a Mercedes car can be found fit to claim benefits. Thus, nearly the whole of India will now be categorised as poor and be entitled to get special benefits like the scheduled castes and tribes do have reservations in all domains of benefits and special support including age relaxation and more.
It may be recalled that on 7 August, 2015, the Rangarajan committee had come up with a poverty report which added up almost 100 million more people to an existing one. The Rangarajan team had set a new poverty line then- any rural person earning 32 rupees a day, and his urban counterpart making 47 rupees, would not be considered economically distressed.
Rangarajan, the former chairperson of Prime Minister's Economic Advisory Council, had thus redefined the poverty line afresh. The earlier poverty line figure was set at Rs 27 for rural and Rs 33 for Urban India. So overnight, the Rangarajan report added up 93.7 million more to the list of the poor assessed in the previous year by the Suresh Tendulkar committee.
The committees were set up in the backdrop of national outrage over the Planning Commission's suggested poverty line of Rs 22 a day for rural areas.
It had used a new methodology wherein a household was considered poor if it is unable to save any money. The method also included certain normative levels of adequate nourishment, clothing, house rent, conveyance, education and above all a behavioral determination of non-food expenses. It also considered average requirements of calories, protein and fats based on ICMR norms differentiated by age and gender.
Based on this methodology, the Rangarajan committee had then estimated the number of poor were 19 per cent higher in rural areas and 41 per cent more in urban areas than what was estimated using the previous Tendulkar committee formula.
The standard methodology to measure poverty was first devised by an expert group headed by Y K Alagh in 1979, which was further improvised by the expert group headed by D T Lakadwala in 1993.
Now with the new 'Modi bill' coming up to accommodate the upper caste poor, every eight out of ten families would be found poor to claim benefits. That means the whole country is infested with impoverished families of beggars and tramps living in good houses with cars and motorcycles, owning five acres of crop fields and spending nearly a whopping sixtyfive thousand rupees a month family wise.
The primary criterion for a group to avail reservations, by claiming that the new amendment does not seek to include the upper castes within the category of backward classes, a term solidly defined through a number of judicial pronouncements, shall not be respected anymore. It is now clear that a 10% quota for the upper castes has the potential to eat into the fair share of quota the backward classes deserve when the results of the caste census, which remains undeclared since 2011, is finally released.
Most shockingly, on the Gini coefficient scale, India is quite infamous as one ignoring equity among its people on benefit distribution fronts. It ranks 99th, and is worse placed than Pakistan at 136th position which ensures better equality for its citizens, meaning there are not only filthy rich and filthy poor; but there is an appreciable middleclass better than one finds in India. Interestingly, Slovak republic, Czech Republic, Slovenia, Iceland and Ukraine are the five best countries for having ensured equality for all.
The worst five nations are South Africa, Namibia, Botswana, Suriname and Zambia. It is good to know something called the 'Gini coefficient' which is a single number aimed at measuring the degree of inequality in an economic distribution among masses. It is used to measure how far a country's wealth or income distribution deviates from a 'perfectly equal' distribution.
In the popular Times of India column 'Swaminomics' too, eminent commentator Swaminathan S. Anklesaria Aiyar has long argued that even the 'cash grant' in KCR's Telengana is better than Modi's ultra-high minimum support prices for crops, for which state governments have neither the administrative nor financial capacity. Even if good implementation were possible, the scheme would be a disaster.
By guaranteeing a 50% return on all crops with no regard to domestic demand or exportability, this scheme encourages the production of unwanted, unexportable surpluses. Modi never cared a hoot about the grand promise of helping out on the support price for farm produce to help farmers survive with dignity.
Global experience proves that farm distress is best relieved by subsidising farmers through cash transfers, not by subsidising crops. KCR's Telangana model does exactly this, proving that good economics can be good politics too. However, this model has many shortcomings. It benefits the biggest landowners the most, including absentee owners who lease out their land. While giving cash to farm owners, it fails to reach tenants or share croppers doing the actual cultivation. It also fails to benefit landless labourers, the most needy.
Naveen Patnaik of Odisha is known for uniquely ingenious ways of finding ways to solve problems of poverty. The KCR and Modi formula shortcomings are overcome by the Odisha proposal called KALIA (Krushak Assistance for Livelihood and Income Assistance).
Politically wise Patnaik rightly pours scorn on loan waivers in states ruled by the BJP and Congress, since the biggest farmers with the biggest loans are the biggest gainers. Small farmers and agricultural workers often have no farm loans and get no benefit. His 'KALIA' will provide a cash grant of Rs 5,000 per cropping season (Rs 10,000 per year for double-cropped land) to 30 lakh small and marginal farmers in the state. This rightly leaves out two lakh large farmers. The scheme also aims to cover all tenants and sharecroppers who do the actual cultivation, and not absentee landowners.
In addition, KALIA will give 10 lakh landless households cash grants of Rs 12,500 each. This aims to finance the starting costs of ventures like rearing goats and poultry, and producing mushrooms and honey at home. Fisherfolk will get this grant for fishing nets and allied equipment. This aims to especially benefit dalit and tribal households that are most likely to be landless.
By refusing to write off farm loans, Patnaik is helping maintain repayment discipline in the banking system. Loan waivers penalise honest farmers who repay on time, and then look foolish when their neighbours (many of whom can afford to repay), get loans written off.
Patnaik says that of the 32 lakh cultivators in the state, only the richest 20 lakh have farm loans, and they should not be the main beneficiaries of an anti-distress programme. Patnaik is absolutely right, and both the BJP and Congress should listen.
Lastly, the movie on Manmohan Singh. Kher is a Modi-sycophant. Nassiruddin Shah has assessed him just rightly. It may be recalled here the stance taken by legendary music maestro SD Burman, a royal blood genius from Tripura, who was inimitable because of magnificent uniqueness. All his life he never even thought of the great singer Mukesh as one who had any skill to understand lilt and voice control. Mukesh, as per Burman, had simply no variation of the voice. He never took him any of his films.
Though it sounds ruthless and unreasonable, it is a truth. Only Raj Kapoor promoted and kept him floating. The real music wizards called Mukesh a very poor version of Pankaj Mullick. Similarly, Anupam Kher is a chance actor. Because he got a good opening in Saaransh by Mahesh Bhatt, he became a star.
Nassiruddin Shah is a million times better actor who brings life into his portrayals. So was On Puri. Kher is a fortunate guy who has spoilt great movies by playing badly as villain, joker and character actor in countless movies. Take any of his laughter scenes and one will realise how bad he is as actor.
Lately, he has turned a Hindu fanatic and chosen to be a 'Modi crony'. He speaks nonsense at most events because of lack of knowledge about the non-negotiable secular tone of the Constitution.
The 'Accidental Prime Minister' is not only a rotten movie, it is conceived by sick minds to malign a great statesman who had saved India as finance minister under the leadership of the greatest prime minister on record, Narasingha Rao.
As PM, Manmohan Singh chose to remain calm and quiet because he knew too well ranting and venomous rhetoric never yield desired results. 'Accidental Prime Minister' best be banned.