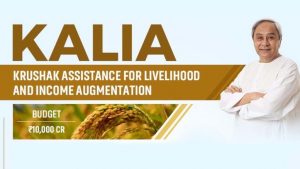 By Bizodisha Bureau, Bhubaneswar, January 12, 2019: The Odisha government will transfer Rs 5000 first installment of Krushak Assistance for Livelihood and Income Augmentation (KALIA) scheme to accounts of around 12.4 lakh farmers by January 26.
"We have information of 12.4 lakh farmers who have made different kinds of transactions with the government like bought seeds and fertilisers, sold paddy. So by January 26 we will disburse the first phase of the assistance to the farmers account," state cooperation minister S N Patro said on Saturday.
The government has been working at breakneck speed to meet its deadline, he added. January 15 is the last date for first-phase submission of the application for the scheme while the last date of application for second phase will be from January 25 to February 5.
The Naveen Patnaik government on December 31 last launched the KALIA scheme to provide financial assistance scheme worth Rs 10,180 crore for three years. The scheme will benefit 30 lakh farmers including cultivators, loanee as well as non-loanee farmers, share croppers and landless agricultural labourers.
The minister also pointed out that the finance commission praised KALIA scheme.
However, the opposition BJP and Congress criticised the scheme and said it is a poll gimmick of BJD government.
"In the name of KALIA scheme the BJD government is openly distributing money to party workers instead of giving to needy farmers. The minister should restrain from making false claims and resign from his post for giving irresponsible comments on farmers while there are so many evidence of farmers' plight," said BJP's state vice president Samir Mohanty.
Congress leader Tara Bahinipati said, "KALIA scheme is going to be a boomerang for BJD in the coming election as there is going to be serious irregularities in distributing cash to real beneficiaries."